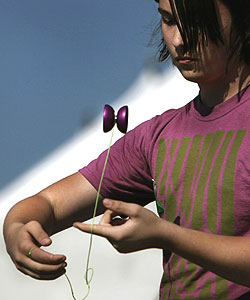 If you've been in Mitchell's, you know we know yo-yos. It's one of our specialty departments. We host weekly yo-yo club meetings on Fridays from 4 till whenever. Tyler Severance (left), who runs our yo-yo club meetings, won the US National and World Championships in his division (5A or counterweight division). Plus, we host the Mid-Atlantic Regional Yo-Yo Contest each year (one of eight Regional yo-yo contests in the United States).

This Saturday (January 12th) is a yo-yo contest to be held at Aldersgate United Methodist Church (five doors down from Mitchell's) Tyler has set up this contest, recruited the judges, solicited prizes and done most of the work associated with running a contest. The contest is open to yo-yoers of all skill levels and ages. There will be a 'Ladder' contest, which involves working your way along a trick list until your second miss. The trick list starts with the most basic of tricks (the sleeper) and moves up to very difficult tricks. There will also be two expert divisions for yo-yoers to compete for prize money and the title of Delaware State Champion!

Yo-yoers from around the country are coming in, with Dave Poyzer and Seth Peterson (www.savedeth.org) in town to film for their latest video release and former Duncan team member Spencer Berry in town. Some of the best yo-yoers in the country will be on hand - so if you're in the area, you should check out the contest. Saturday, from 10-5 at Aldersgate United Methodist Church. For more information, check out the official ECC website.


Mitchell's will be on hand to sell all sorts of yo-yos, including the official debut of Tyler's signature edition yo-yo - the Train Wreck. Only available at Mitchell's, this yo-yo from Saturn Precision Yo-Yos will be $94.95.