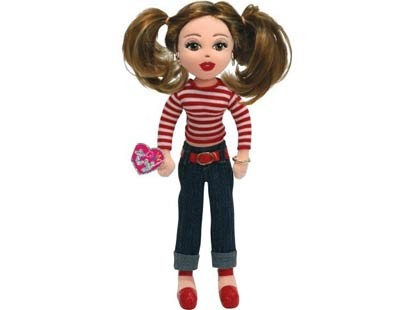 Remember Beanie Babies? We sold thousands of 'em. Piled 'em up high when we opened at our new location ten years ago. We had a dedicated following that would call every day to see if we got the latest batch of Beanie Babies in. Our UPS driver said people would ask him if he had any cases from Ty on his truck, then they'd come in and ask for the latest shipment, as they already knew it was here. Ty had a gold mine in it's hand, and they knew it.

As often happens when everybody and their brother wants what you sell, Ty became...er...funky...about it's products. I remember calling for customer service, and being told that "you don't call customer service, they call you." I also vividly remember running a sale on Beanie Babies, where we advertised them at $1 off the suggested retail price. The next day, my Ty sales rep calls and informs me that "we're in big trouble" because we advertised them at a sale price. I tried to tell her that, by law, we can sell them at any price we want to. She threatened to take us off the "priority shipping list" and said we broke the rules. I asked her to fax me these rules so I could show them to our lawyer. Funny, she didn't have them in writing.

Anyhow, to make a long story short (too late), Ty today finally relented in pulling their Jammin' Jenna doll - which, according to the state of Illinois, had too high lead content. Unlike virtually every other toy company who had toys recalled (most of which bent over backwards to try to save face), Ty fought the recall and left the toys on the shelves for weeks while legal solutions were explored. Apparently, they are replacing the vinyl red shoes on the dolls with ones made of cloth. Check the full story here.

Nice. Ty wanted to save money while leaving toys that were at the very least allegedly tainted in the marketplace.

We stopped selling Ty years ago, and are thankful now that we did.